We're here to make your life easier by providing a variety of general real estate and property management services, including:
• Monthly Court Filings (Settlements, Summons, & Writs)
• Annual Income Statements for Owners
• Multifamily & Residential Sales
• Upkeep of Vacant Properties
• Advertisement Coordination & Tenant Location
• Maintenance & Repair
• Monthly Accounting & Accounts Payable
• Market Analysis
• Rent Collection & Increases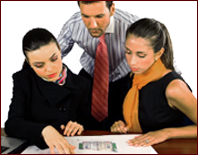 Our Clients
In the past, and presently, we have had the pleasure of working with many different entities, including:
• US Treasury Department & US Mint
• General Dynamics Information Technology™
• Affiliated Computer Services, Inc.™ (ACS)
• Legume & Norman, Inc.™
• Zalco Reality™
• Lincoln Condominiums™
• 2020 Condominiums™
• Chase Point Condominiums™
• Florida Avenue Condominiums™
Quality and Convience First
No matter what, we're dedicated to quality. We continuously measure and review the work of our employees and seek to encourage them to be more flexible, productive, and reliable. For your convenience, we are available 24 hours a day, 7 days a week in case of emergencies (emergency shift pricing varies).
Contact us at (877) 684-5600 in the Washington DC metro area, for complete property management services.
We are available 24 hours a day, 7 days a week for your convenience.